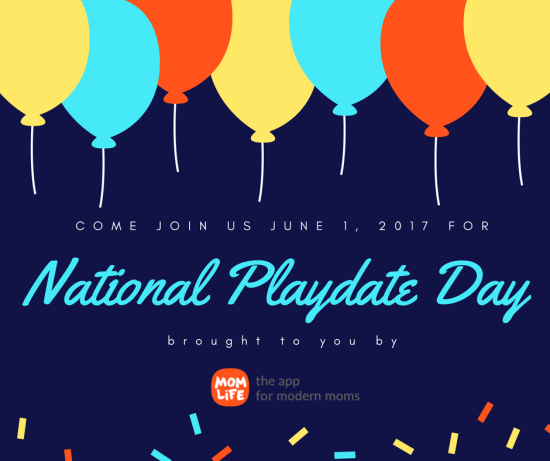 #momlifeplaydateday

Do you need help finding moms from the app for the National Playdate Day? Please try using Mom Finder. Go to your profile page and tap Find mom friends. Then scroll down to the Mom Finder. Select it and try your city and the surrounding areas.

Here are some groups that have started to form for the June 1st National mom.life Playdate Day. If you see a mom near you, please message her to join. Or start your own group and comment below.

If you can't do June 1st, you can hold your playdate at the weekend or another day in June!

Username City
@Trezelle Albany, NY
@Arivera64 Waterbury, CT
@kimberlyyyy_the_preemie-mom Lake Tahoe, CA
@mommymcclung Queen Creek, Arizona
@mommywifelifestyle Houston, TX
@Cubanese Southhaven, MS
@ellieinmybelly Meridian, MS
@erinflaherty818 Dover, DE
@Heera Debarry, FL
@erikasmiles123 Clarkston, MI
@mommychina_ Columbia, SC
@theinkedmommy Douglasville/Atlanta, GA
@megbaby07 Raleigh, NC
@momofdeuce and @kailey.gallentine Cerritos, CA
@txyogagirl Dallas, TX
@charong Bay Area, CA
@angelinamomwife Queens, NY
You will be able to see all photos, comment and read other posts in the Mom.life app
Open this post
in the Mom.life app
Open
Comments
— Is there anyone from Tucson, Az and not PHX holding a play date?
— 🎀Any mommies in San Diego
— Dallas Tx June 1 Message me for details
— Saturday June 3rd 1pm to 3pm Waterville park, Waterbury CT https://www.facebook.com/events/323657511386959/?ti=cl If you don't have fb just message me if you're coming. You can just show up too. Rsvp isn't required
— Bismarck North dakota
—
— Cincinnati , Ohio . 💜❤💙🌞 would love to have a play date and make new friends !
— any moms in Virginia
— Anyone in Columbus Ohio hosting a play date!?
— @bayleisnipes0121, right here!! :) where in VA?
— @mrs.carmdi Bristol
—
— June 1st Liberty park Cerritos, Ca 11 am. Potluck Games and prizes! Everyone is welcome!!
— @bayleisnipes0121, awww I'm in warrenton.
— This seems like a cool thing to do but scary.. to meet up with women you've never met... I watch too many crime shows! Lol
— Anyone in northern Wisconsin?
— @mrs.carmdi idk where that is
—
— @bayleisnipes0121, it's north east... few miles away from D.C.
— @mrs.carmdi oh okay
— We need one for Austin, TX
— @meldelrey, yes! Try using mom finder to locate local moms. Go to your profile and tap find mom friends and then you'll see it.