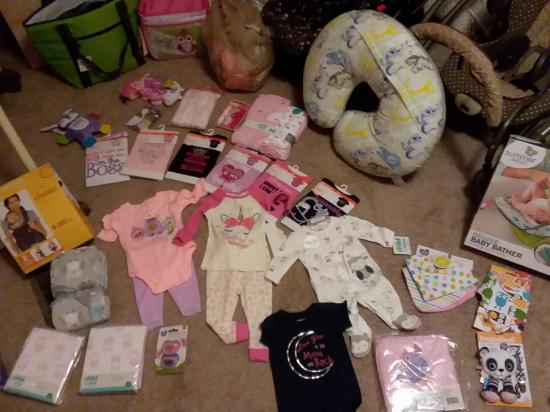 These are all of scarlettes gifts from the baby shower !!
You will be able to see all photos, comment and read other posts in the Mom.life app
Open this post
in the Mom.life app
Open
Comments
— Aww yay! So happy for you. She's so loved already 💜
— Yes she is, spoiled, she got 4 more gifts yesterday and 2 more coming through the mail. Her room is almost completely full.
— your baby girl gone have a lot of stuff
— Yes, she already does lol
— Awwww. 😍 Maggie has those unicorn pj's too. ☺️ and you're going to love that baby carrier if Scarlette is half as clingy as mine is! I use mine every day.
— It's so neat! I already love it and haven't gotten to even use it yet lol
— Yay. We got cards mostly and I ordered some things but we already mostly has the big stuff.
— That's awesome that yall already got the big stuff that baby needs. I'm even more anxious for baby girl now lol not much longer for us girl 😍😍
— Yess I have the rest coming this week! The bottles and stuff. If anything we have to wait to see what else she needs. Not sure how she's going to want to sleep and where.
— I need more bottles also ! And diapers! My daughter will be in a bassinet by my bed, then a crib after a few months, when I feel ready ! I'm not going to want to take my eyes off of her in the newborn stage.. being a mom is exhausting but worth it !