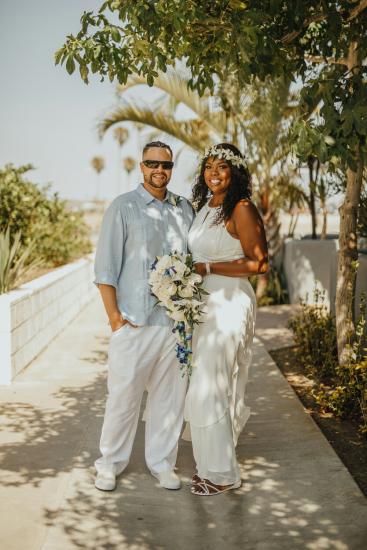 COUPLES, it is almost Valentine's Day. Make this your status and answer honestly. ❤️

Married,engaged,bf/gf?: Married 8.11.18
Who's older: Him👴
Age difference: 8 years
Who was interested first: He shot his shot
Who's taller: Him
Worst temper: Me
Most sensitive: Me
Loudest: Me 😩
Funniest: I crack myself up
Most stubborn: Me
Falls asleep first: Him...hes like an old man. Falls asleep any and everywhere lol
Cooks better: Me by farrrr lol #ChefA
Better singer: We both sound like 💩
Most Adventurous: Both. Which is why we love to travel.
Most organized: Def me
Stresses the most: Probably me
Dresses the best: Me
Most protective: Both
Glued to their phone the most: Me lol
Best Person with money: def me. He calls me frugle but in a good way 😂😂

**Post a picture of you two**
You will be able to see all photos, comment and read other posts in the Mom.life app
Open this post
in the Mom.life app
Open
Comments
— Gorgeous picture 🥰
— How tall are you??
— @phoebesmommy, all my female friends and family are like 5'4 and under lol you'd be a very welcome taller than average!
— @doubleksmommy, aww that's good. She's been like in the mid 80's percentile 😢 I'm hoping she has a growth spurt one of these days lol
— @flamingomom, yay!! I know lol my friends are all teensy
— Beautiful picture!! ❤️
— Thank you hunnay😊
— You are so pretty!!! you're glowing!!
— 😁😘
— Gorgeous !!!😍😍😍
— Thank yoooou