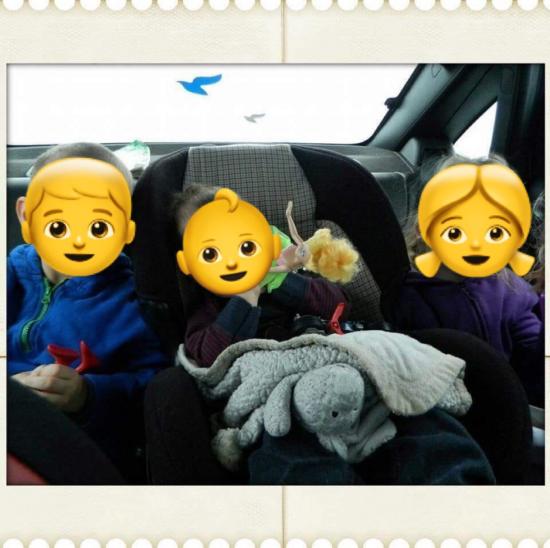 *sharing from a public facebook post*

"March 21st 2013, 6 years ago, this was my setup.
All was legal. They were in all the appropriate minimum weight and age seats.
This photo was taken 20 to 30 minutes before our collision while we were stopped for a break.
2 of the 3 died.

This is not to scare anyone. This is to show the importance of having the right seats for your children and how much the minimum laws are lax.

Can you spot my errors? I sure can expecially now as a technician.

-Owen 3 almost 4, just above 40lbs in a low back booster. He survived by pure miracle with head injuries and a broken arm as well as some internal injuries.
-Hailie 4 almost 5 just above 40lbs in a low back booster. She did what we call the submarine effect and died on impact.
-Trent 17 months above 22lbs forward facing suffered internal spinal decapitation which killed him almost instantly.

My goal is to help parents and the population know that the minimum laws set forth by our government is not safe. And I want to try to help prevent more injuries and deaths to children.

When we know better we do better."
You will be able to see all photos, comment and read other posts in the Mom.life app
Open this post
in the Mom.life app
Open
Comments
— Kys law is still 1 year and 20 lbs. I don't understand why they haven't changed it like everyone else 😭 To be in a booster there is no certain age it just says "when they outgrows their carseat" Which is why I see toddlers in boosters 🙄
— Is there a link to this story? Like a newspaper article.
— here's the facebook page it's from. i'm not looking through all of it to find that lol.
— @mockingbird., aww shoot I don't have Facebook
— @lakota-winyan, it's hard to look through. so sad, and seeing her at her children's graves just makes it even more sad.
— Oh my. 💔😢
— This ☝️ is why I'm the crazy mom with my 3 year old and 1 year old rear facing. My preschooler is tiny and in no way ready physically for forward facing. I had to argue with my inlaws about it too. But I bought the car seats and I told them he need to be rear facing for this reason. Such a tragic situation. I hope no parent has to live through this ever again.
— My kids are 2 and 1 they will be 3 and 2 this year, my daughter is only 19lbs and my son is 22lbs and they are both rear facing and they will continue to stay rear facing until They are 12 lol
— Love this!!! Can I repost?
— sure!
— @mockingbird., thank you ☺️